NINJA FOODI 9-IN-1 MULTI-COOKER 6L OP350UK
---
WHAT IS IT?
One pot does the lot! Quickly and easily create delicious homemade meals, sides, snacks and desserts with the Ninja Foodi 9-in-1 Multi-Cooker.
Get creative with 9 cooking functions including Pressure Cook, Air Fry, Slow Cook, Steam, Bake/Roast, Sear/Sauté, Grill, Yoghurt and Dehydrate. Perfectly sized for up to 4 people, you can cook and crisp a whole 2kg roast chicken.
The pressure cooker that crisps -TenderCrisp Technology quickly pressure cooks food to lock in juices then finishes it with a golden crisp. The only hard part is deciding what to make first…
WHAT'S INCLUDED:
Ninja Foodi
Pressure Lid
6L Cooking Pot
Reversible Rack
3.7L Cook & Crisp Basket
YOUR EXCLUSIVE OFFER:
RATED: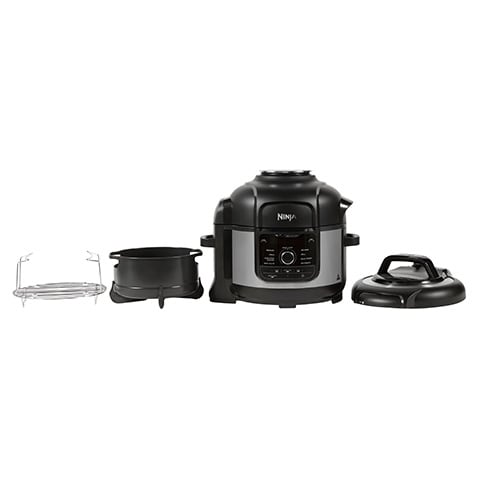 ---

MULTIPLE COOKING FUNCTIONS
With 9 cooking functions, it's easy to show off delicious homemade meals, sides, snacks and desserts that the whole family will love. Easily switch between Pressure Cook, Air Crisp, Slow Cook, Steam, Sear/Sauté, Bake/Roast, Grill, Yoghurt and Dehydrate functions.
TENDERCRISP TECHNOLOGY
Cook and crisp with Ninja's exclusive TenderCrisp Technology. Pressure Cook to lock in juices, up to 70% faster than traditional cooking methods*. Then choose the crisping method of your choice to give your food a crispy, golden finish. Simply swap between the Pressure Lid and Crisping Lid for perfect results every time.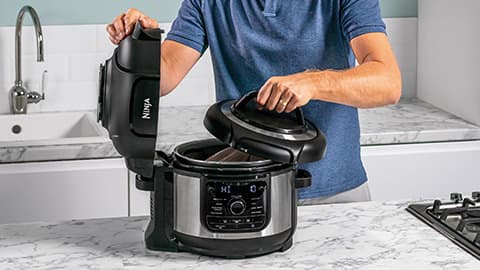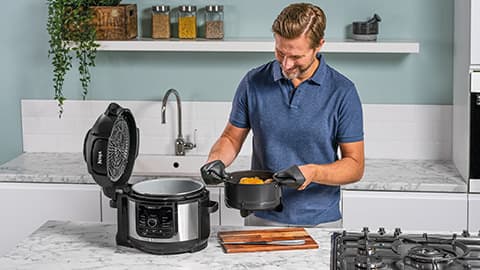 USES LITTLE TO NO OIL
Air Fry to enjoy guilt-free fried food with the same great taste – up to 75% less fat than traditional frying methods**. A healthier way to enjoy fried favourites, from crispy chips to chicken wings.
COOK FROM FROZEN
Defrosting, cooking and crisping in one go, even frozen food is thoroughly cooked and finished with a crisp – perfect for days when you need to raid the freezer.
COMPLETE MEALS
Save time by cooking mains and sides at the same time. Simply place vegetables and grains into the cooking pot, add the reversible rack and layer meat, fish or proteins on top to enjoy easy, complete one-pot meals. Dinner ready before you are? Keep Warm mode can keep your food ready to eat for up to 12 hours after cooking.
ONE POT DOES THE LOT
Includes a large 6L cooking pot and a 3.7L Cook & Crisp basket, perfectly sized for up to 4 people. Ceramic-coated, non-stick dishwasher-safe parts make washing up easy. Inspiration is included with a recipe guide in the box.