Ninja Foodi Max Pro Health Grill, Flat Plate & Air Fryer AG651UK
---
WHAT IS IT?
The large capacity grill and flat plate that precisely cooks with perfect results.
Switch between 2 interchangeable grill plates and cook with the lid open or closed. No guesswork with the Smart Cook System. More than a Grill with 7 cooking functions – Grill, Flat Plate, Air Fry, Bake, Roast, Reheat and Dehydrate.
WHAT'S INCLUDED:
Ninja Foodi MAX PRO Health Grill, Flat Plate & Air Fryer
Digital Cooking Probe
Powered Grill Plate
Flat Plate
3.8L Crisper Basket
Chef-Created Recipe Guide
YOUR EXCLUSIVE OFFER:
RATED: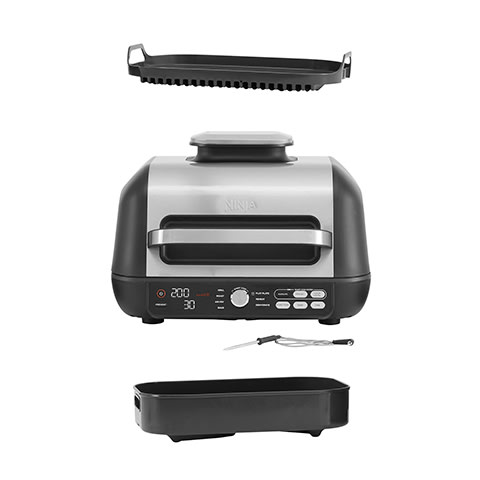 ---
2 INTERCHANGEABLE GRILL PLATES
Unlock a new food adventure. Grill sizzling steaks, halloumi skewers, chargrilled chicken and more with the Powered Grill Plate – high-heat searing locks in juices and creates better charring and grill marks. Switch to the smooth Flat Plate to sear and sauté delicate ingredients – perfect for onions and peppers, fajita chicken, seafood or even a fried breakfast. Cook with the lid open or closed.
USES LITTLE TO NO OIL
Transform into an Air Fryer to create low-fat versions of your fried favourites – up to 75% less fat than deep frying*. From chunky chips and spicy sweet potato wedges to southern-fried chicken goujons and crispy broccoli florets.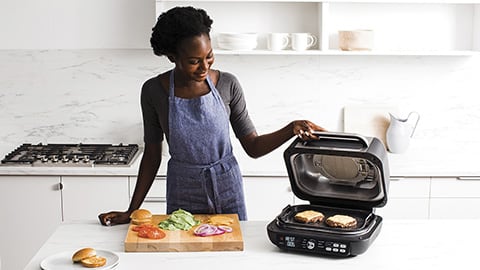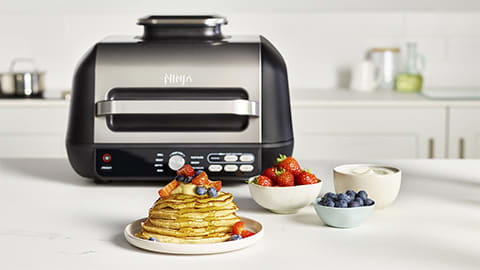 NO-FLIP GRILLING
With the lid closed, Cyclonic Air Technology circulates temperatures up to 260°C around your food, cooking quickly and evenly with no need to flip. Enjoy fast, juicy, chargrilled results with all-around searing.
SMART COOK SYSTEM
No guesswork, just perfectly cooked meat and fish – exactly as you like it. The leave-in Digital Cooking Probe precisely monitors your food's temperature during cooking, so you don't have to! From rare to well done, choose your desired outcome and cook your food with the leave-in probe in place. Audible alerts let you know when your food is ready to remove and rest before serving.
MORE THAN A GRILL
Create delicious meals, sides and desserts with 7 cooking functions – Grill, Flat Plate, Air Fry, Bake, Roast, Reheat and Dehydrate. More flavour, less smoke – a removable splatter guard prevents fat from splashing against the heating element.
LARGE CAPACITY
Perfect for 4-6 people with a 3.8L Crisper Basket, fitting 1kg of French fries, and a large capacity grill plate which can cook up to 6 burgers. Easy to clean with dishwasher-safe, non-stick parts. Includes a Chef-Created Recipe Guide for instant inspiration.