Ninja Foodi Health Grill & Air Fryer AG301UK
---
WHAT IS IT?
Imagine getting the delicious chargrilled flavours of outdoor cooking from an indoor grill. With the Ninja Foodi Health Grill & Air Fryer, it's quick and easy to create your favourite meals, evenly cooking and searing fresh and frozen ingredients using little or no added oil.
With 5 cooking functions, enjoy sizzling steaks, chargrilled halloumi skewers, crispy chips, freshly baked bread and more…
WHAT'S INCLUDED:
Ninja Health Grill & Air Fryer
Ceramic-Coated Grill Plate
Ceramic-Coated Crisper Basket
Ceramic-Coated Cooking Pot
Splatter Guard
Cleaning Brush with Scraper
YOUR EXCLUSIVE OFFER:
RATED: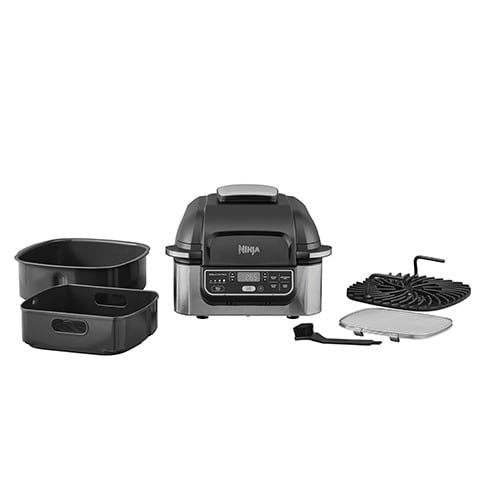 ---


LITTLE OR NO ADDED OIL
Grill like a pro. Cooking with little or no added oil,the grill plate's cooking temperature is precisely controlled to deliver exceptional searing and authentic chargrilled results, indoors.
NO-FLIP GRILLING
Food cooks quickly and evenly with Cyclonic Air Technology. A powerful fan circulates temperatures up to 265°C around food for even cooking and 360° searing, with no need to flip.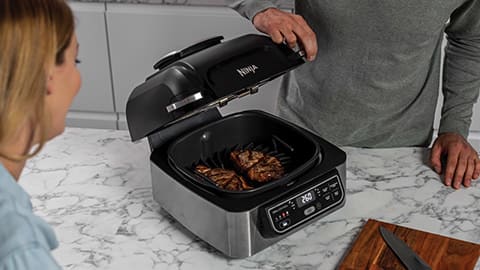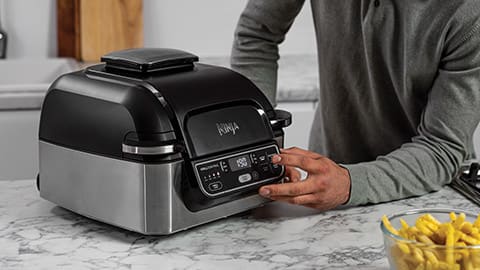 5 COOKING FUNCTIONS
Grill juicy burgers, sizzling steaks, chargrilled halloumi skewers, chicken drumsticks, perfectly cooked sea bass and corn on the cob.
Transform into an Air Fryer to cook golden French fries, crispy sweet potatoes and chicken goujons – up to 75% less fat than deep frying*.
Roast tender pork with crisp crackling, fluffy roast potatoes and Mediterranean veg medleys.
Bake fresh garlic bread, flavoursome flatbreads, sweet apple pies and delicious desserts.
Dehydrate your way to homemade beef jerky, dried herbs and dried fruit snacks.
MORE FLAVOUR, LESS SMOKE
Virtually smoke-free. A temperature-controlled grill plate, splatter guard and cool-air zone work together to reduce smoke and keep it out of your kitchen.
EASY TO USE
Easily cook from frozen to chargrilled, no thawing required. Show off your cooking skills to friends and family with the generously-sized Cooking Pot, Crisper Basket and Grill Plate – perfect for feeding 4 people. Dishwasher-safe, non-stick parts. Includes handy Cleaning Brush and Chef-created recipe guide.