NINJA FOODI DUAL ZONE AIR FRYER AF300UK
---
WHAT IS IT?
The air fryer that cooks 2 foods, 2 ways, and finishes at the same time More than an air fryer. 6 ways to cook – Max Crisp, Roast, Bake, Reheat, Dehydrate and Air Fry. When it comes to cooking, timing is everything. The Ninja Foodi Dual Zone 7.6L Air Fryer does the thinking and timing for you.
With 2 independent cooking zones,  you can mix and match cooking programs, times and temperatures across both drawers to create delicious meals in moments! SYNC to cook different foods in each drawer – both ready to serve at exactly the same time! Feeding the whole household? MATCH to make double the amount of food in the same amount of time!
Up to 75% faster than fan ovens*, cook from frozen to crispy in minutes. With up to 75% less fat**, enjoy guilt-free fried food using little to no added oil.
WHAT'S INCLUDED:
1 x Air Fryer Unit 2400W
2 x Non-Stick Crisper Plates
2 x Non-Stick Drawers
Instruction Booklet
Inspiration Guide
YOUR EXCLUSIVE OFFER:
RATED: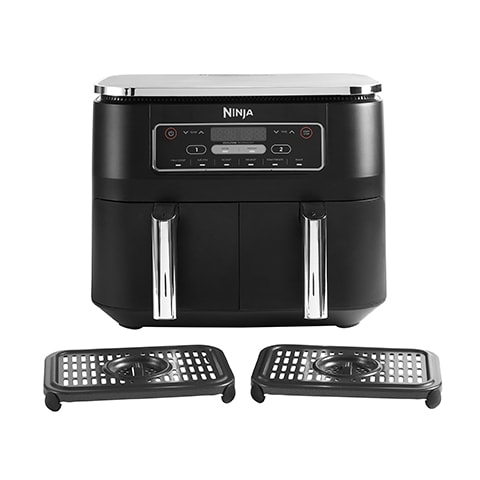 ---

2 INDEPENDENT COOKING ZONES
Different foods, different times, different programs – both ready at the same time! With 2 separate cooking drawers, you can Sync or Match cooking programs and times for total versatility. Extra-large 7.6L capacity feeds up to 8 people. Each drawer fits up to 1kg of fries.
UP TO 75% FASTER THAN FAN OVENS*
Enjoy delicious food, cooked in under half the time of a fan oven. Perfect when you need to get dinner on the table quickly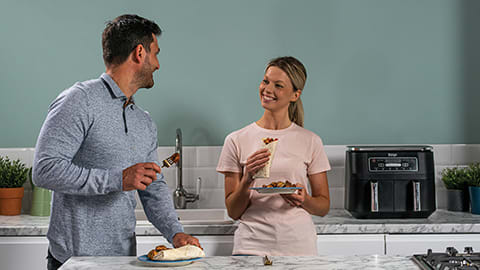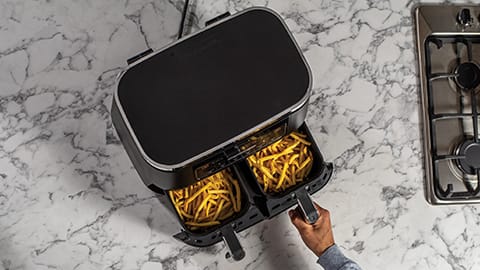 UP TO 75% LESS FAT
than traditional frying methods**. Using little to no oil, super-hot air is evenly circulated around your food to quickly cook and crisp with a delicious golden finish.
MORE THAN AN AIR FRYER
Get creative with 6 ways to cook – Air Fry, Max Crisp, Roast, Bake, Reheat and Dehydrate. Customise with variable temperature controls. Cook from frozen to crispy in minutes.