WHAT IS IT?
Say hello to guilt-free fried food.
Discover a fast and easy way to cook your favourite meals and snacks, using little to no oil.
Up to 75% less fat than traditional frying methods*. Enjoy the same great taste, from crispy, golden chips to roasted vegetables. More than an air fryer, you can also roast, reheat and even dehydrate food to create delicious home-made meals and snacks.
WHAT'S INCLUDED:
Ninja Air Fryer
Air Fryer Basket
Air Fryer Crisper Plate
Cook & Crisp Rack
YOUR EXCLUSIVE OFFER:
RATED: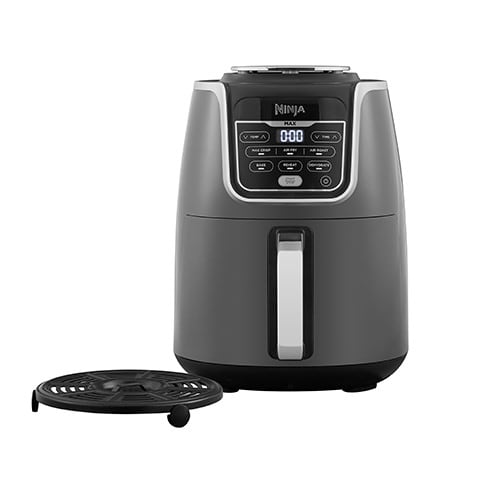 ---


GUILT-FREE FRIED FOOD
A healthier way to enjoy your favourite fried foods. From perfectly cooked chips and crispy chicken wings to roasted vegetables and homemade jerky, the Ninja Air Fryer gives you the same great taste using little to no oil.
4 COOKING FUNCTIONS
With 4 cooking functions – Air Fry, Roast, Reheat and Dehydrate – not only can you create delicious mains and side dishes, you can also reheat to restore leftovers and get that fresh-out-of-the-oven texture. You can even gently dehydrate ingredients to enjoy homemade dried fruits, vegetable crisps and beef jerky.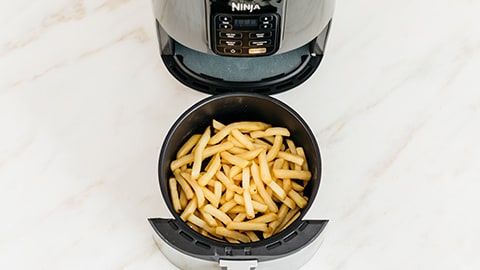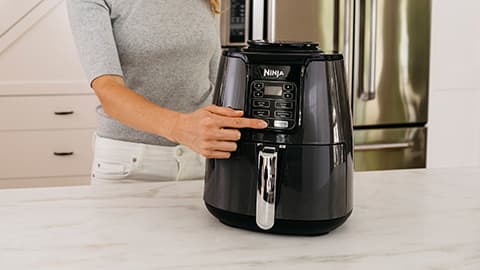 FEED THE FAMILY
Feed the family with the generously-sized 3.8L non-stick basket, fitting in 900g of fries – that's equal to 4 servings. Gather the whole household around the table for quick, homemade dinners. You can even cook from frozen.
QUICK & EASY
Dinner can be on the table in just minutes thanks to the Air Fryer's quick, customisable programmes, one-touch controls and fast air-flow. Engineered for accuracy, precision temperature control ensures your food is cooked to perfection. Choose from variable heat settings and two fan speeds. Easy to clean with non-stick, dishwasher-safe parts.